Greetings, my name is Emre. I am the co-founder and CEO of Popupsmart. Although it sounds cool to be a CEO, I have been running the Product Management and Growth side of the product until now. There is also the Flatart agency, which I co-founded in my previous career and gained expertise.
Popupsmart is a SaaS startup that has completed its 3rd year with more than 650 paying customers worldwide. We have acquired more than 35,000 users and more than 2M website visitors through SEO. We continue to acquire users through our SEO and growth tools without spending even 1 dollar on advertising. In this blog post, I will describe how we achieved this openly and honestly.
Before I started this detailed case study, I wanted to share a momentous event that happened in my life here as a memory. I got married! I wrote this blog content on my honeymoon. 🤷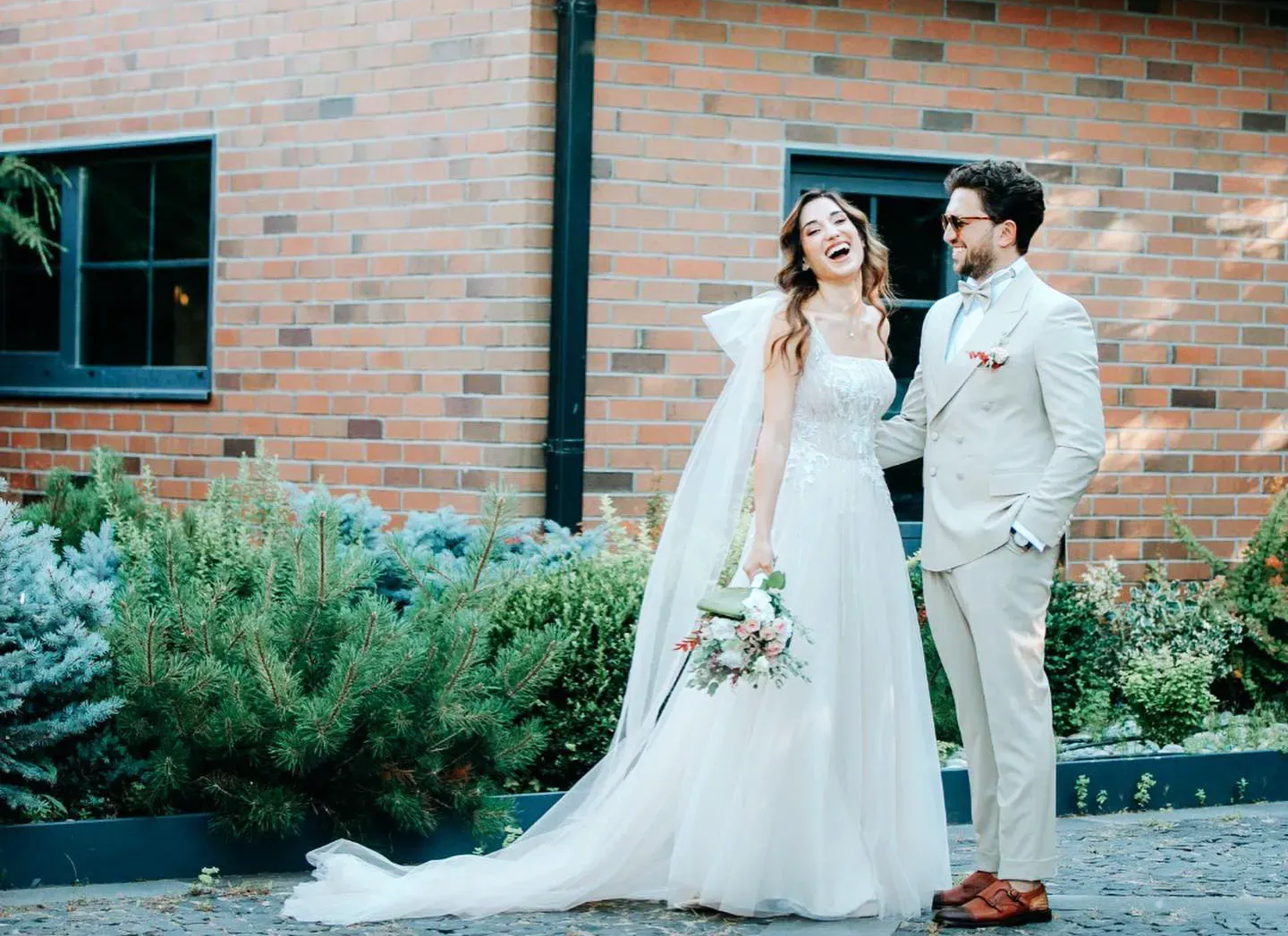 Table Of Content
How did We Start, and What Did We Do?
Execution is a precious action for me. Vision means nothing without execution. That's why we were thinking of a lot of sources that would provide traffic to Popupsmart at one point, and these are PPC Ads, SEO, growth tools, affiliate marketing, and agency partnerships.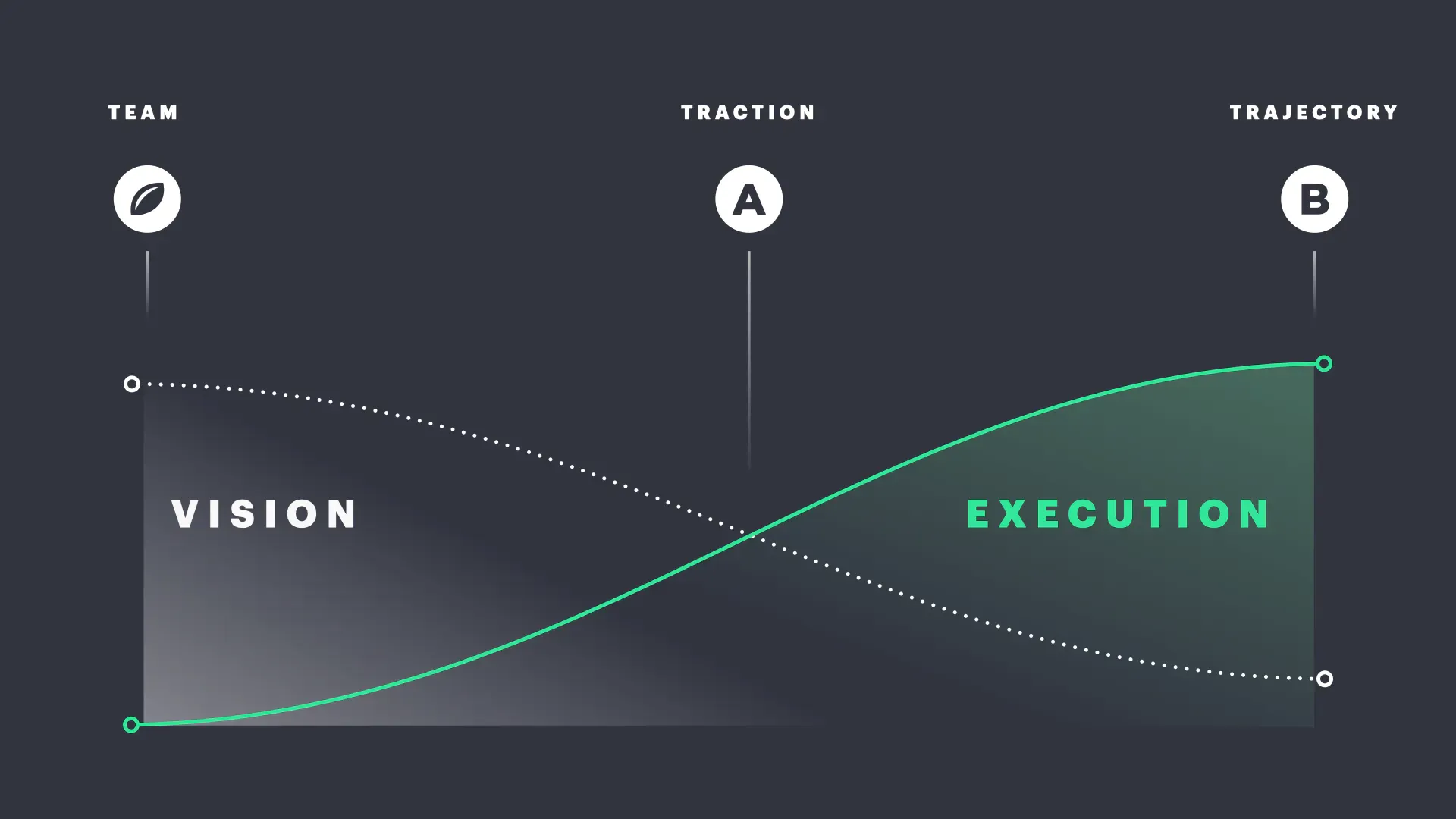 All the traffic acquisition sources I mentioned have to provide the following math:
CPA, i.e., Cost Per Acquisition > LTV (We calculated this as annual turnover).
So the revenue we sell to the average customer is $39 per month, which is $468 per year. You should get such traffic that you can have 1 paying customer by spending a maximum of $468. This is strategically based on some calculations of Life Time Value (LTV), but in a bootstrapped startup, you should make shorter plans. When we think about this math and evaluate the traffic channels accordingly, we have determined the sources we will focus on as traffic acquisition as SEO and growth tools, and we have given all our focus to these.
A total of 12 years of SEO and Growth experience, along with my agency side, helped determine this focus. I was going to do the work I used to do with hundreds of brands in the field of B2B SaaS now. Before, I thought how hard it could be :) I was wrong. But I firmly believed that nothing could stand in the face of determination.
What is B2B SaaS SEO, the Culture of SaaS, and Why is It Hard to Rank?
What are B2B SaaS and Statistics of B2B SaaS
B2B SaaS, business to business, is a monthly service sales model (SaaS) to the target audience.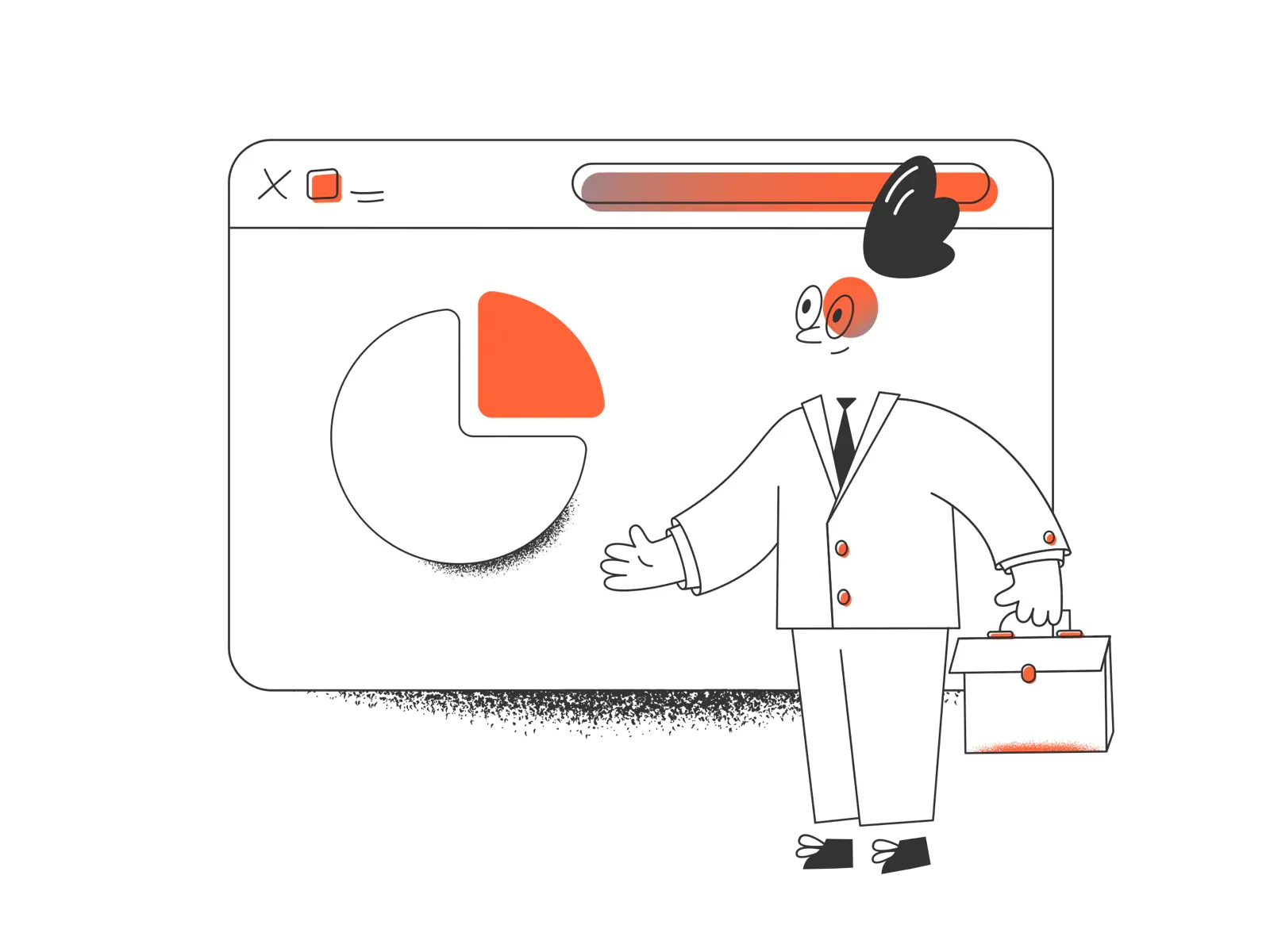 First of all, let me share a few statistics for B2B SaaS:
Companies with more than 1,000 employees use more than 150 SaaS applications.
25,000 SaaS companies operate worldwide.
25,000 SaaS companies serve 59 billion customers worldwide. [Source]
SaaS service provider Salesforce has 73,000 employees worldwide. [Source]
The Culture of SaaS
As you know, SaaS is a service model with a recurring monthly payment. As a Turkish person, I grew up with a distant approach to this model. When we were 16 years old, we stayed away from most services and mobile applications by labeling them as "paid" directly, but this was not the case in the world.
While we were making Popupsmart, we determined our target audience as medium and small-sized companies. Because we thought of the popup builder as a time-saving solution that does not require a designer and a developer, but in our 3rd year we saw that it was also wrong. There is a very different culture in terms of SaaS. Giant brands such as Porsche, Pernod Ricard, Loreal and King Games contacted us about the popup builder for their websites and became our customers. This was something I never expected. But it made me realize that their point of view is the culture of working with the best in the field.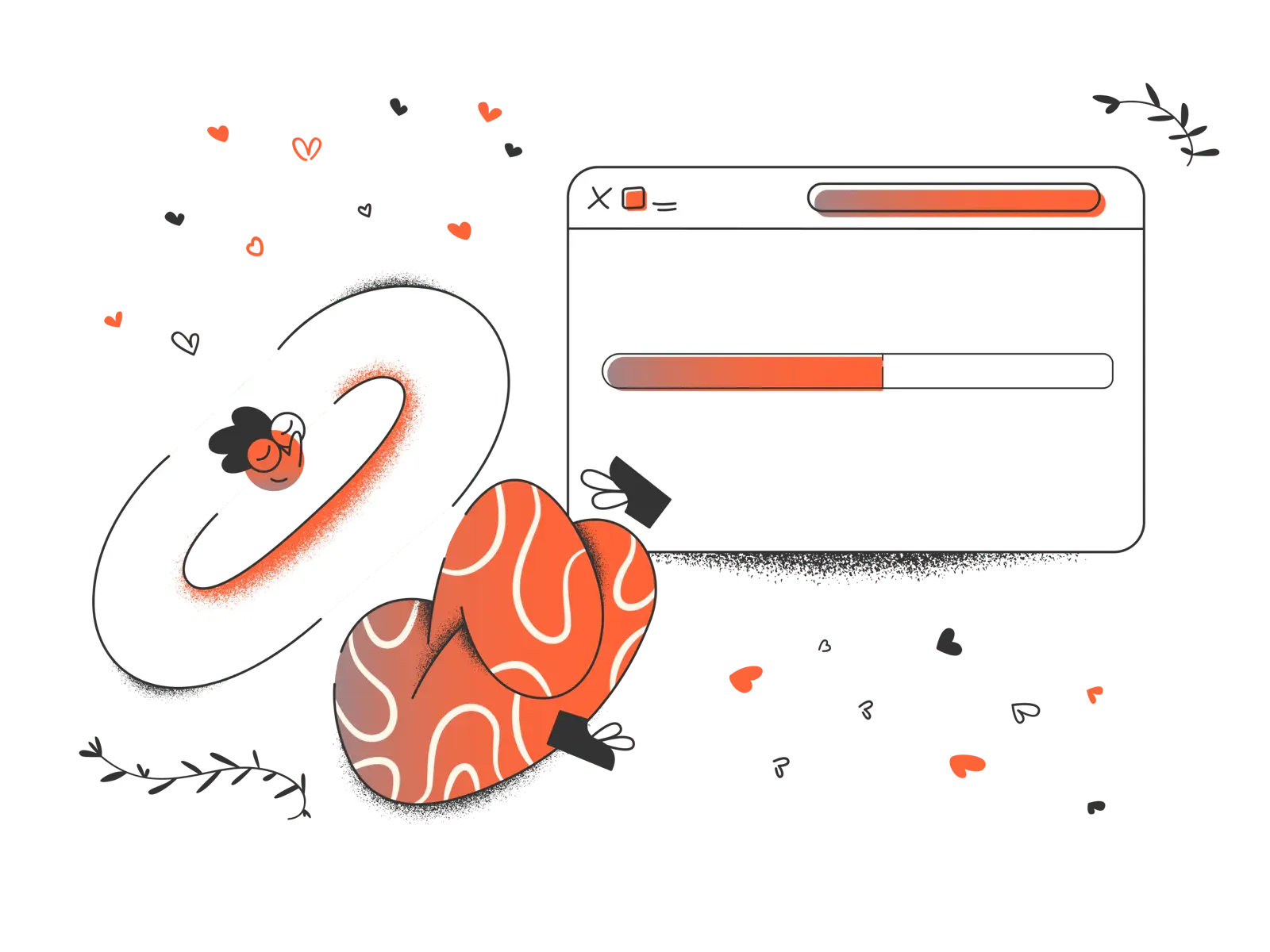 SaaS culture is something that becomes clear once you really experience it. You say that people will pay for it, but it has achieved such a product market fit that only those in the business can understand it. That's why MVP is very important for your idea to be validated. You should quickly get the MVP of your SaaS idea and experience this market and culture.
Why is it hard to rank in the B2B SaaS Market?
As I shared in the statistics, there are more than 25,000 companies in the B2B market. About 12.000 of them are in our field, namely marketing. The money these companies earn per customer is mostly not like ours. For example, HubSpot's average revenue per customer is $975 per month. That's why they know that content marketing and SEO are a good source of traffic for the future and they are investing in this area.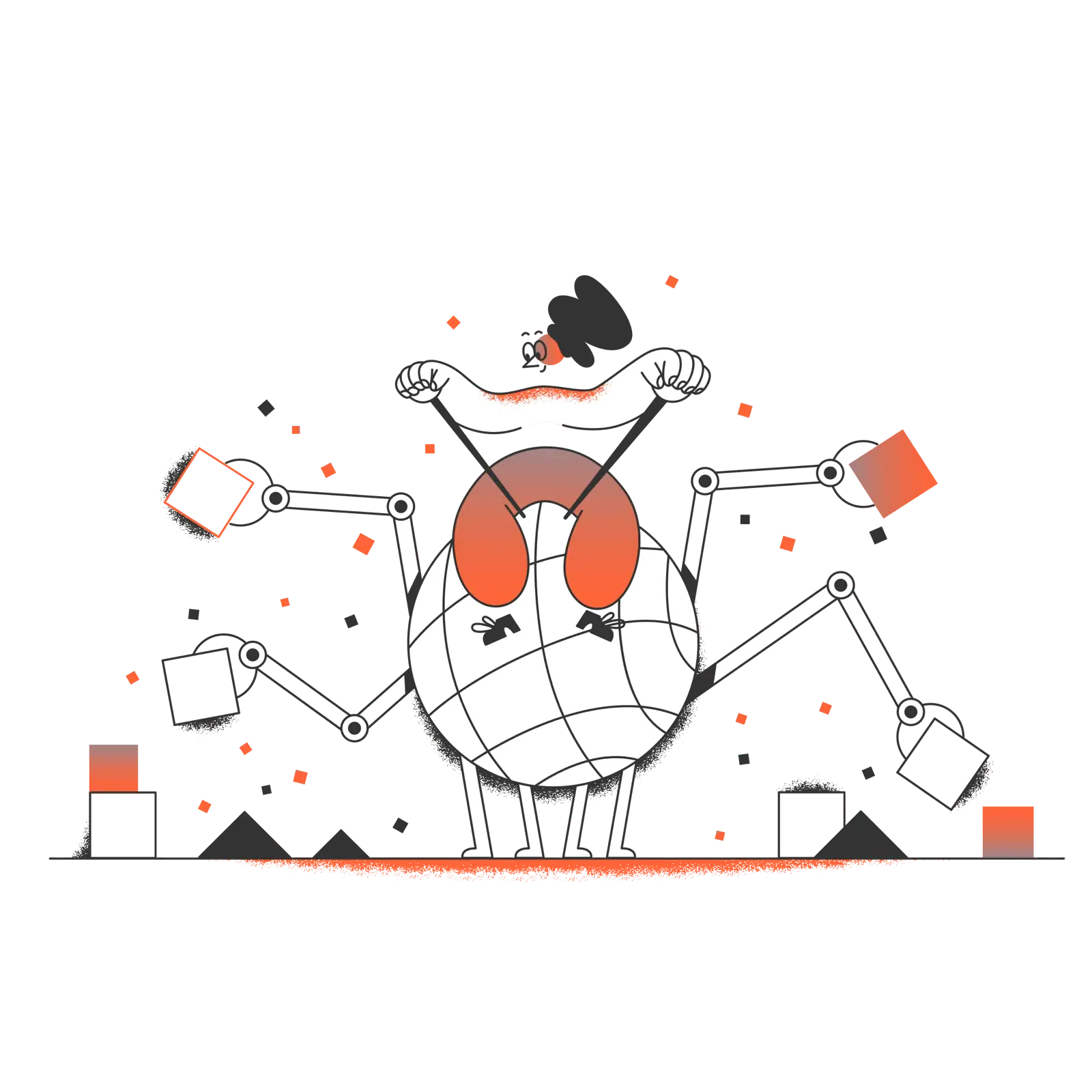 Imagine competing for Google's top 10 rankings with companies worldwide that have thousands of employees and finances! This is a very difficult situation, especially with niche words. But with the right strategy, you can get SEO traffic by taking advantage of their shortcomings.
It is important to remember that some companies with thousands of employees can be very clumsy, unmotivated, and have many untalented people inside. But the startup you founded has the opposite power. 1 person in a startup can do the job that 100 people in these companies cannot do. What matters is creative thinking and execution.
Define and Understand Your Target Audience and Their Behavior
There is a point that many people miss before starting what we do in terms of SEO. First of all, it needs to be focused on. Especially if you have your SEO work done by an agency, you should make sure that they understand this very well. Knowing your target audience and their trends really well is essential to your SEO strategy.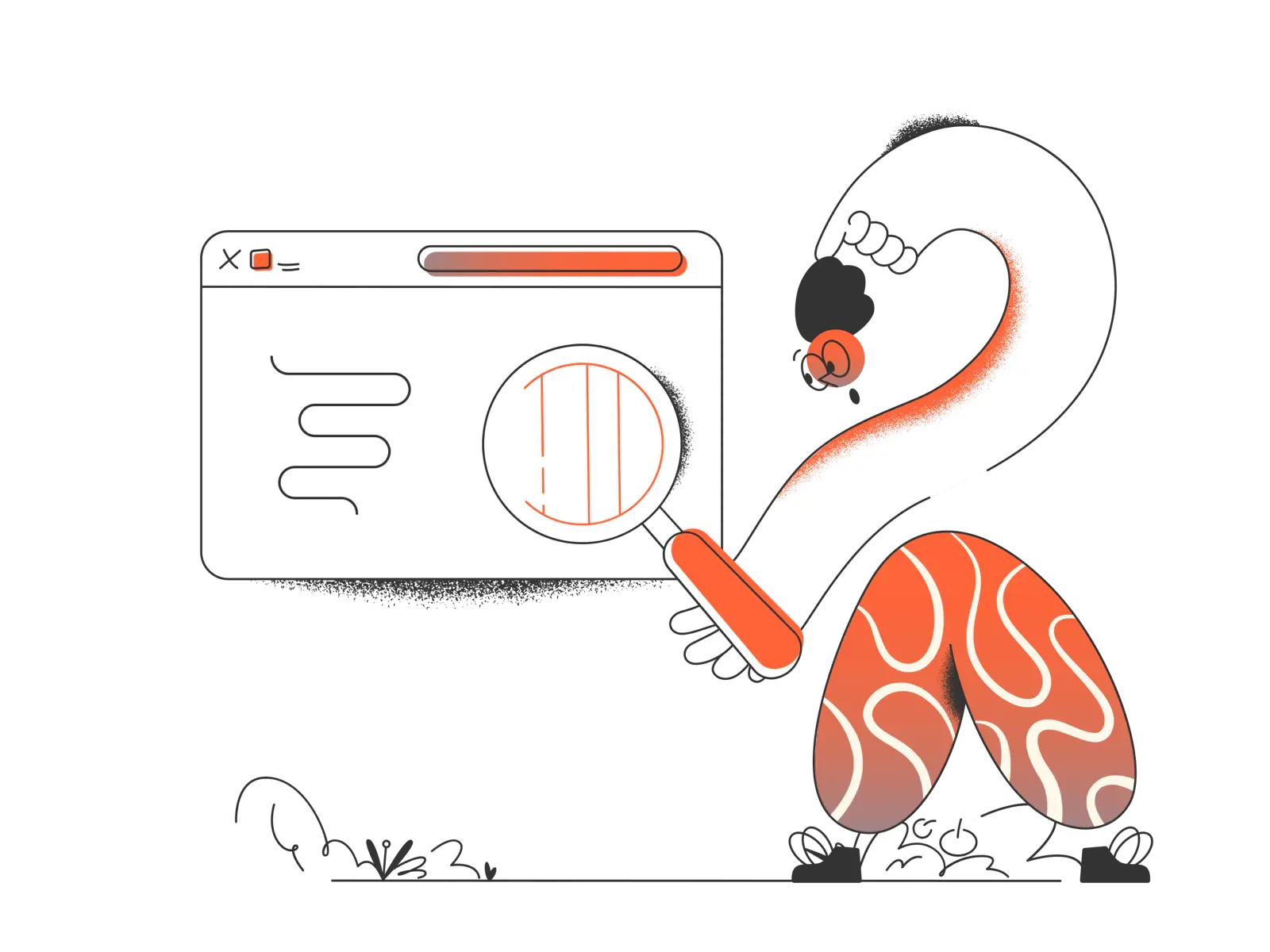 While we were thinking about this for Popupsmart, we defined our target audience as follows and made our SEO strategy for it. Our target audience is: "marketer with limited time, applying no-code or low-code solutions", that is, a marketer who works in e-commerce or wants to increase his sales due to his profession. You also have to know about this profile, character, trends, and even manager-approved spending trends. Therefore, for a SaaS startup, it is very important to have an area that you have experienced before in order to know your target audience well.
Start with a Good Technical Infrastructure for SEO
The issue that makes SEO confusing and makes it possible for agencies to be paid thousands of dollars is actually the technical side, but this issue is 10% of the total work or not. I don't know if you already have a large site and technical work to be done, but for a SaaS B2B business that you are just starting, this issue can be resolved quickly.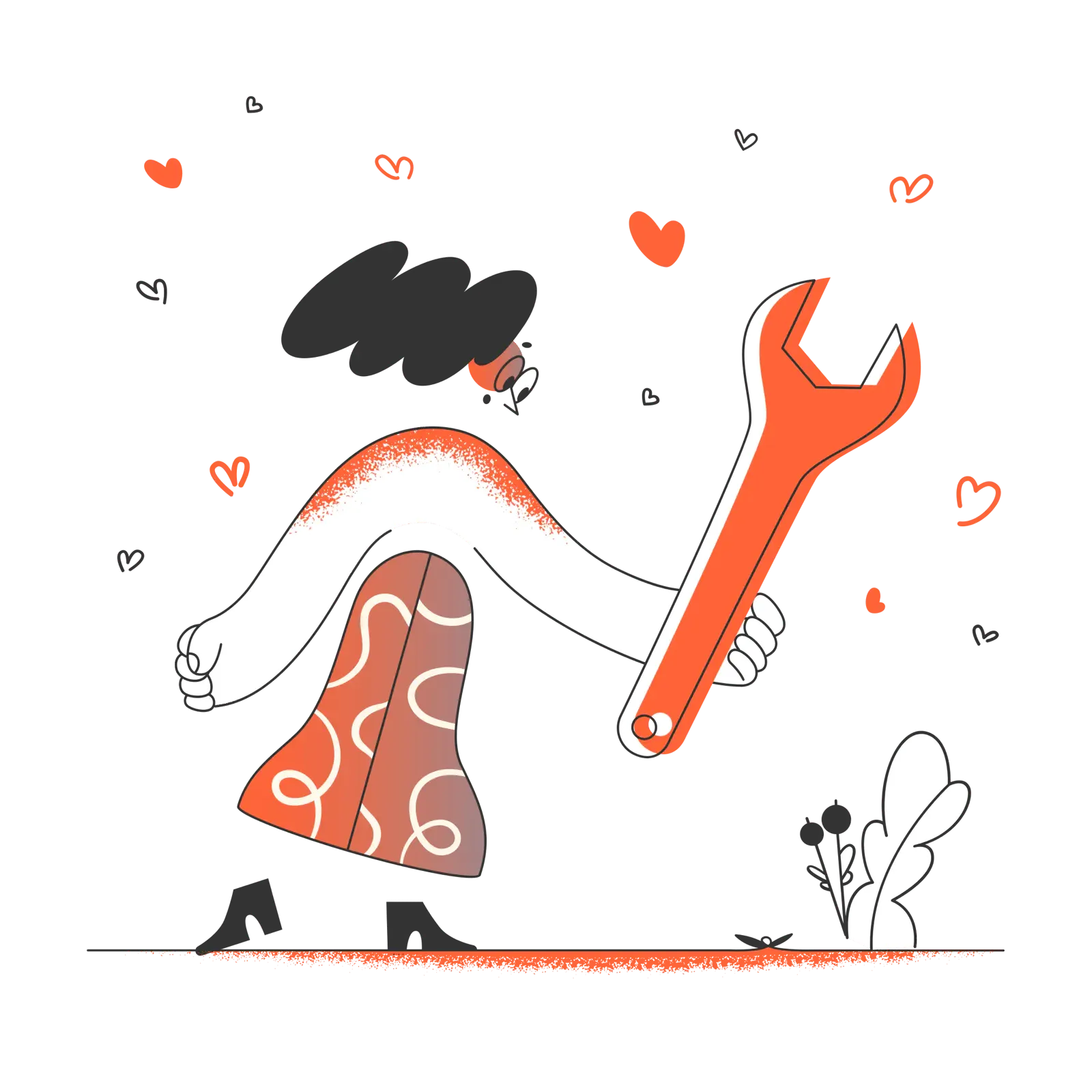 I did a lot of research for the infrastructure that Popupsmart started. We built the website with Vue.js and embedded VuePress, among the technologies of that time. On the blog side, a CMS was required where content writers would log in regularly. In this regard, we preferred GravCMS because of its speed and optimization. We have an average blog post opening time of 1 second and an optimization score of +90%. We have been continuing this way for about 4 years, but we are considering changing it due to the improving technological solutions today. You can review the solutions I recommend below.
Website CMS + Hosting Solution for Google SEO Technical Infrastructure
With Nextjs, my favorite among the solutions above, Core Web Vitals can solve everything you want perfectly by using this framework without doing anything. The rest is to use a CMS where the content will be kept, in this sense, my favorite is Strapi. You can also use Vercel as a hosting solution, which allows all content to be rendered, fully hosted on the front side and distributed with CDN. As Popupsmart, we will be using this solution on our entire website in the near future.
Plan Your Website SEO Page Structure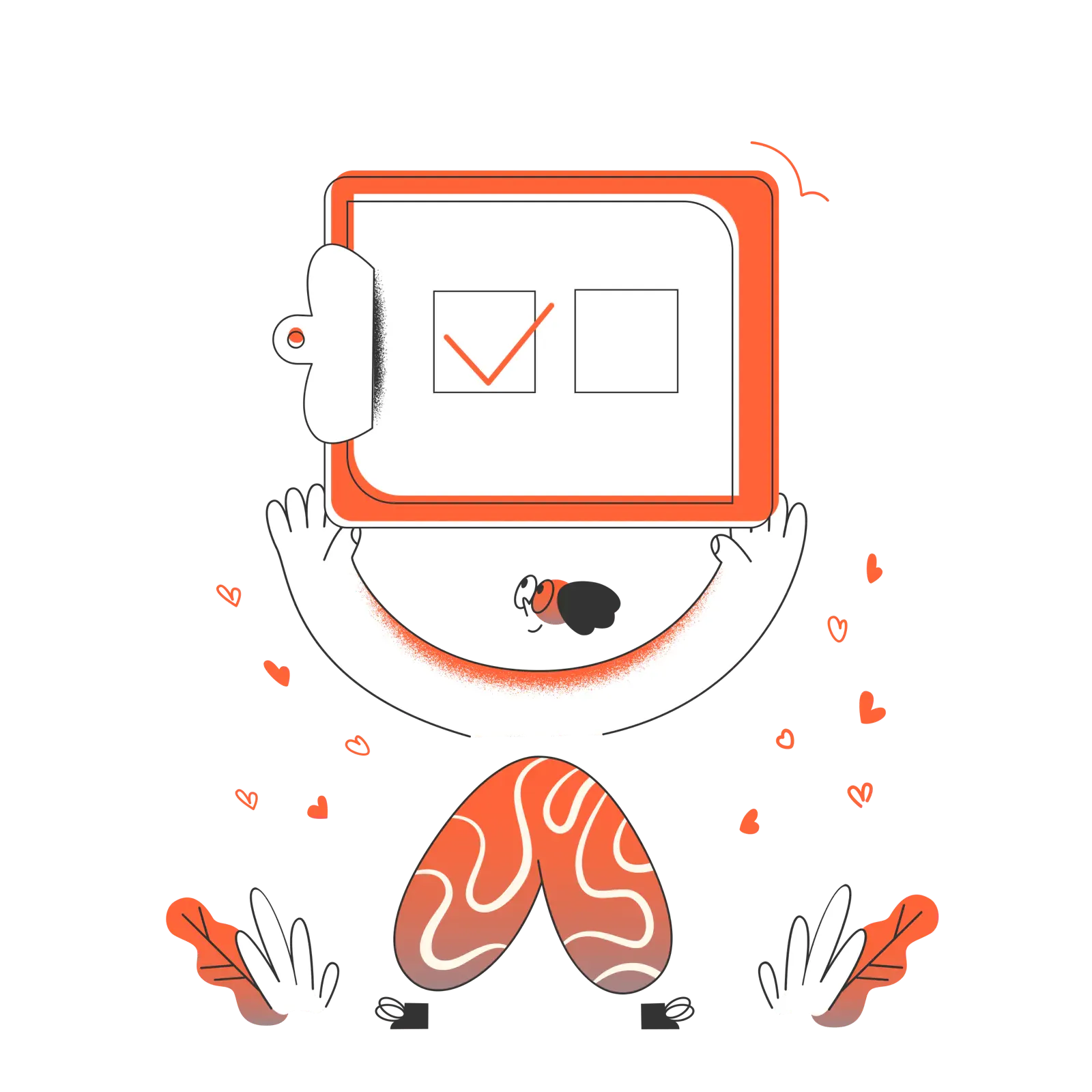 Now let's talk about planning your site's SEO page URL strategy. This is also a critical strategic situation because you need to create a structure suitable for Google's algorithm here. For example, there is a difference between example.com/chair and example.com/product/chair in Google's eyes. With the structure I will explain, I will cover both the structure that Google put forward algorithmically and is for your users.
In terms of URL structure for your website, the most valuable path is the field after domain so; for example, popupsmart.com/email-marketing is the page we target for the very competitive word email marketing. If you put this page in popupsmart.com/blog/email-marketing, you're stepping back a step. Content that supports each other may be in the /blog slug, but you should develop a URL structure for the main path of the domain for all the words we target.
The intent of blog pages is usually informative content about a topic. The user also knows this and determines the search intent accordingly. In other words, the thing that comes to mind for the user who sees the /blog/ slug is not the same as the domain/path. The pages at the bottom of the main site can be characterized as more actionable pages. When removing the structure, you need to evaluate it accordingly.
Unfortunately, there is no single truth that I can directly tell you to proceed with. A strategy should be developed according to your website, products, and target audience. Therefore, it is helpful to go through examples.
Before we get started, I recommend reading the Canva SEO success story. They built thousands of Canva's template pages as a structure on the words "template" and "create" and supported the pages by establishing links with each other. In fact, although "create invitation" and "invitation template" seem like words to do the same thing, they built the pages close to each other according to different search terms to preserve the search intent at the maximum level.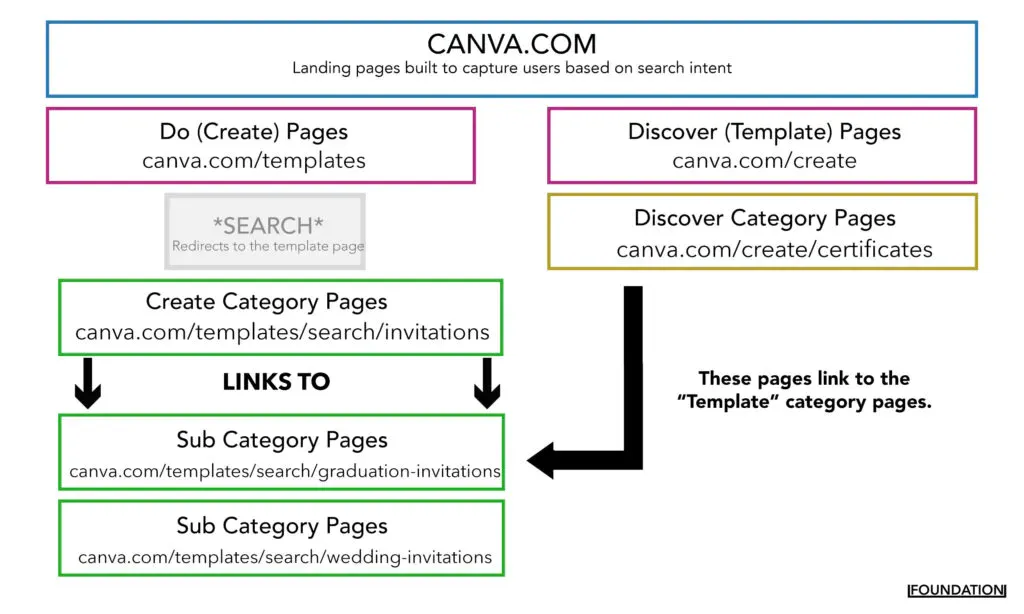 In Zapier, another SEO success story, thousands of pages were created by checking the search volumes for thousands of product pages as well as thousands of integration options for that product.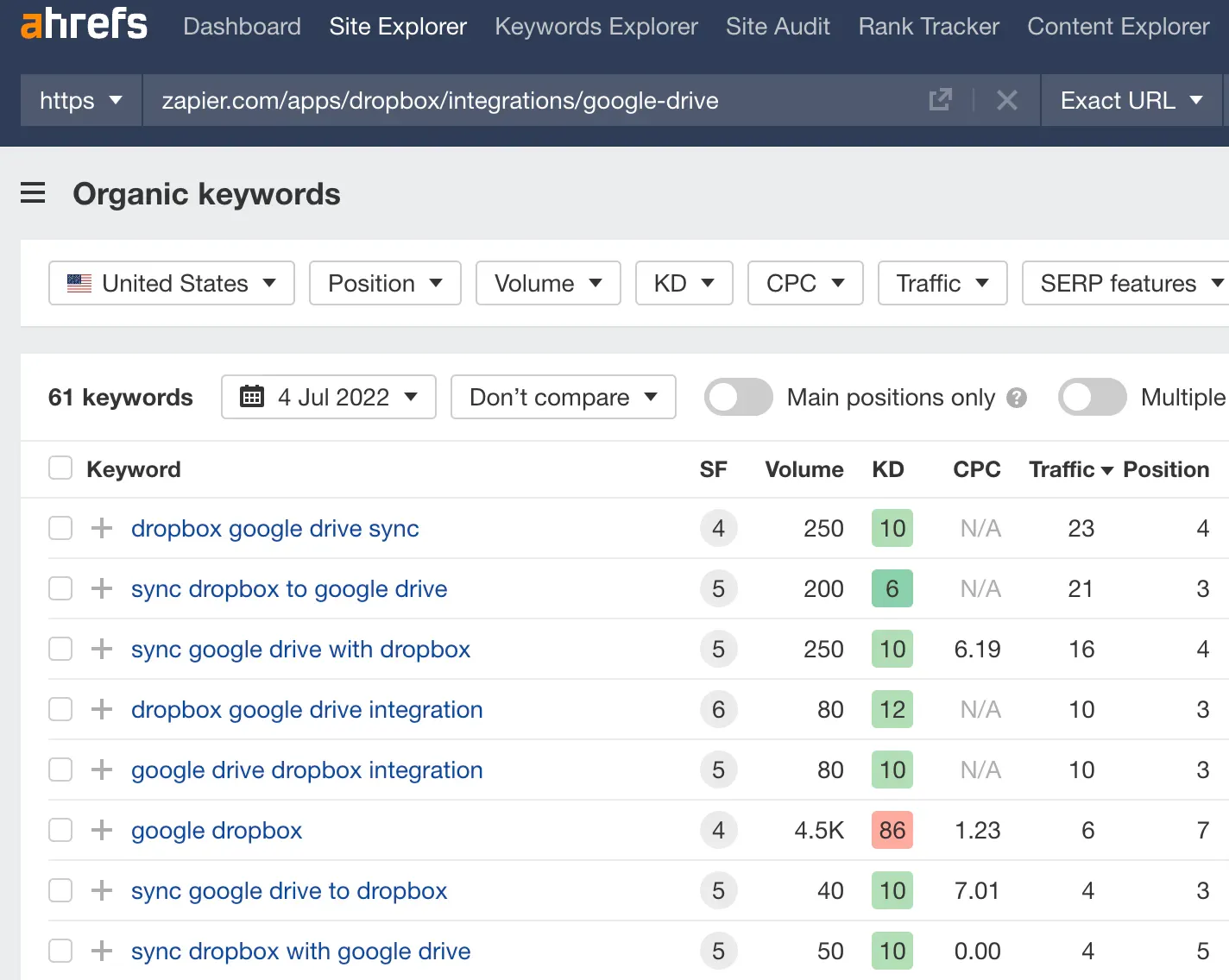 This is done as follows [zapier.com/apps/dropbox/integrations/google-drive].
If I was editing it, this would be a possibility, too: [zapier.com/apps/dropbox-integrations/google-drive].
With a more radical change, I believe [zapier.com/dropbox-google-drive-integrations] will perform much better.
Sub-Domain or URL Path for Your Blog Site?
As a result of much research on this subject, I have seen that using http://domain.com/blog gives much better results. I think this is because when a blog is created on the subdomain, Google perceives it as a different part of the same site. At the same time, they do not support each other as links by having a header footer independent of the existing site. Therefore, if you are setting up a new blog, you can think of it as the main root path instead of the subdomain.
Are Category and Tag Pages on Your Blog Page Beneficial for SEO?
Every page that you will index to Google should be targeted to appear in the search results with search intent. Suppose you open categories such as "technology" and "culture" to Google. In that case, you may be competing with these words, which is crazy. However, if you open a category like "saas metrics" and have a category with 100 blog posts in it, you can get a rank in the word "saas metrics." It makes sense in this respect. We did not use a URL structure as a category and tag in Popupsmart.
Do Keyword Research Like No one Can Think About It
There are hundreds of thousands of SEO and content marketing experts in the world, and I'm sure 90% of them are searching for words through tools such as Ahrefs and Semrush and trying to find low competition keywords on Google. This approach, of course, works, but it's limited by the keyword archive of the tool you use, like Ahrefs. What does this mean? Ahrefs does not have all the phrases searched on Google. Maybe it has around 60-70% of the words. The rest are phrases that Ahrefs has yet to discover. Wouldn't it be great to have a competitive advantage by finding them?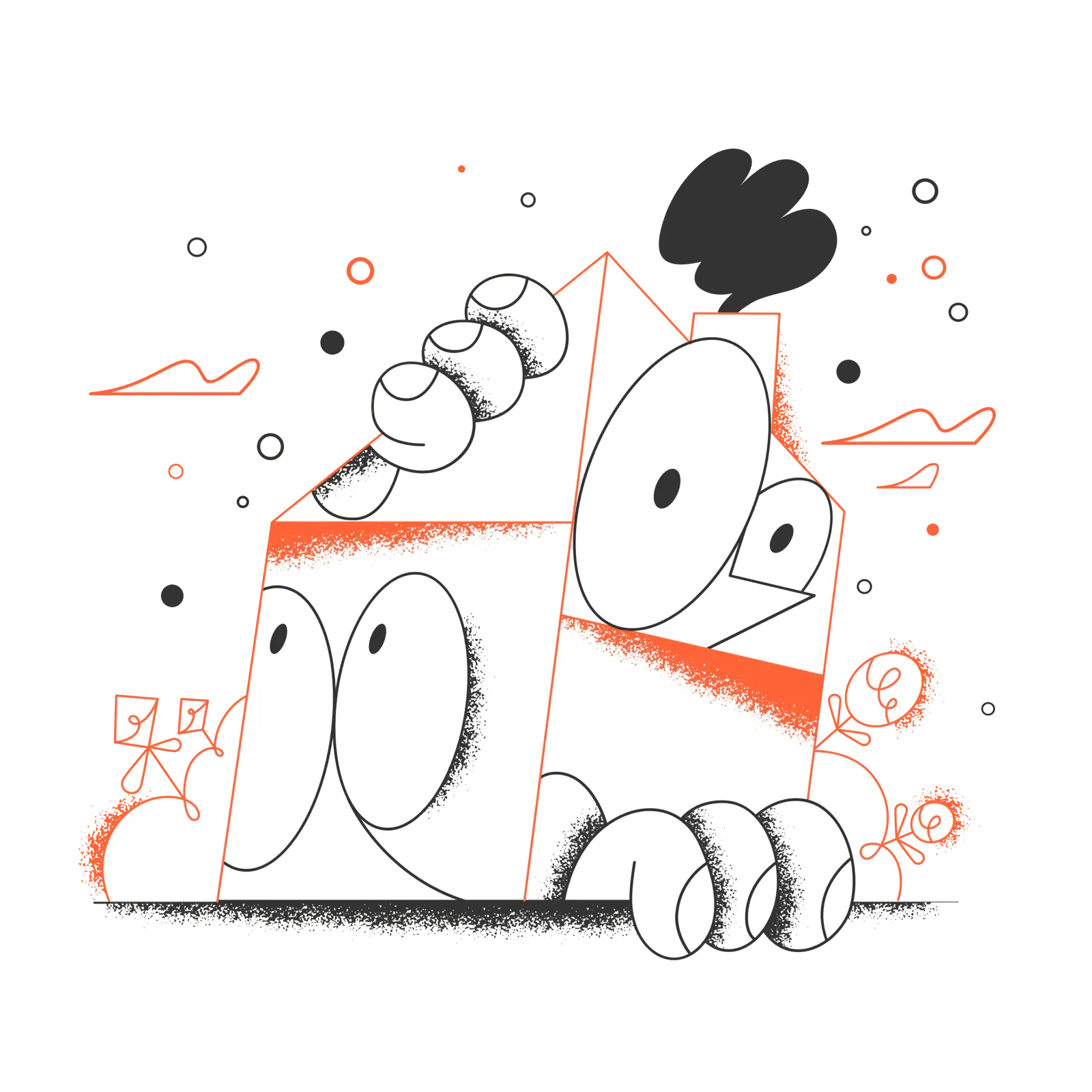 So how do you find phrases that you can't see on keyword research platforms like Ahrefs? The answer is simple: by thinking like your target audience! A good SEO expert should know the target audience and trends well.
As I mentioned in Popupsmart, our main customer base is marketers and e-commerce managers with limited time. As someone who knows them well, I can guess that when they need a popup, they can type the following words into Google: "popup builder," "popup maker" Ahrefs also predicts them. But I also know that there will be a search for "popup + CMS platform" because, at the end of the day, there must be a popup solution that will install on this platform and support it. That's why we created pages with the following target words:
Target Keyword: "ghost popup"
Position: #1
Ahrefs Keyword Volume for "ghost popup": 0
Search Intent Related Landing Page: https://popupsmart.com/ghost-popup/
Monthly Organic Traffic: 265
We get 10-15 signups per month from the above phrase only. We have created nearly a hundred pages with CMS platforms and programming code frameworks like this. We collect more than 10,000 monthly traffic, and quality leads from all of them. These are all pages that are not on Ahrefs but that we make by predicting the trends of our target audience. Moreover, we do not say anything special on the pages; we use words in the platform specific, actually directing them to make the same popup. We plan to add videos by developing such platform-based pages in the future.
Use Google's Algorithmic Advantages with Having a Gray Hat
Honest and Objective Reviews on Directory Page SEO Advantage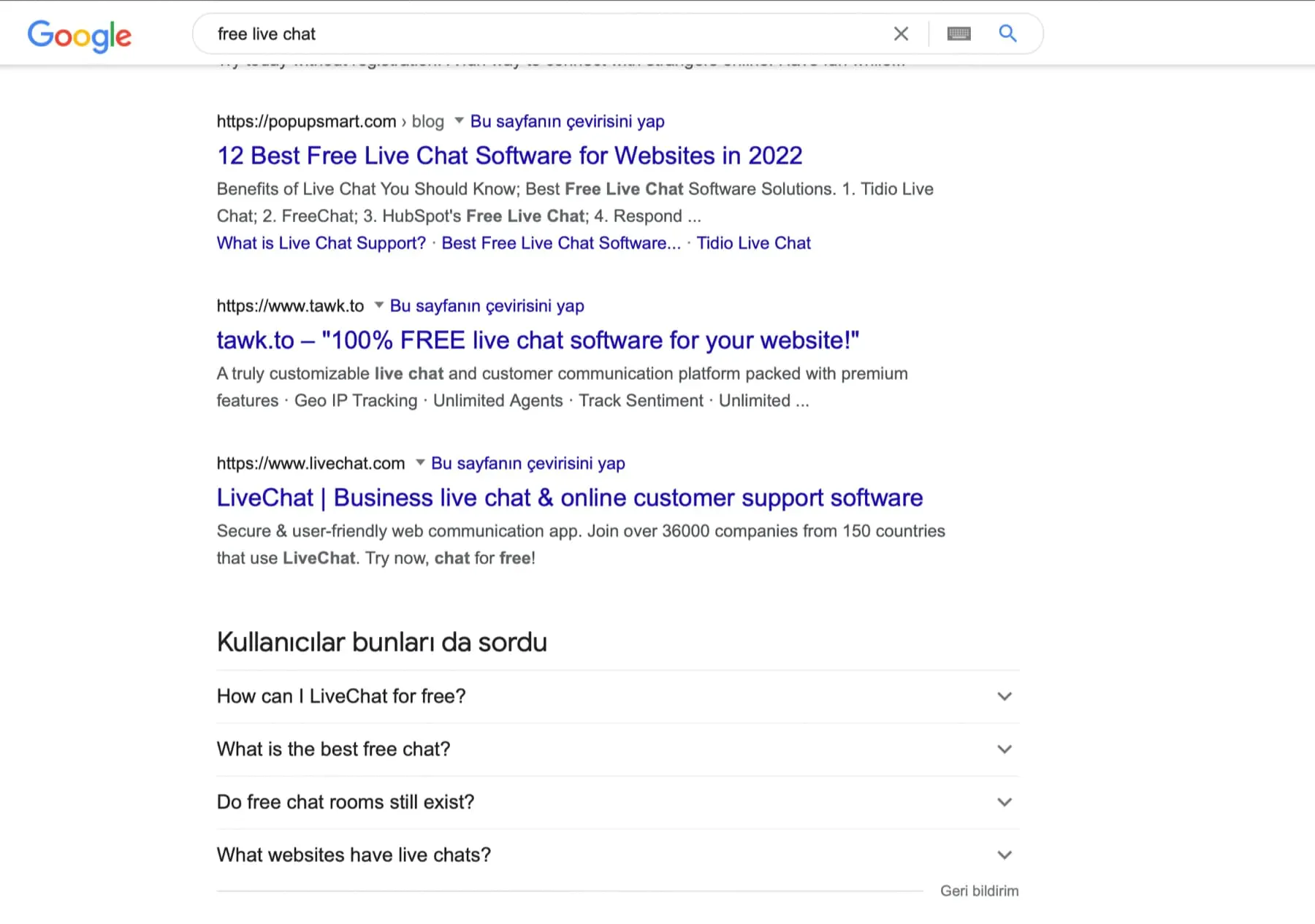 Google puts the evaluations that it thinks objectively made a little more forward on ranking. For example, when the word "free live chat" is searched, the page where we made the product directory appears in the first place, instead of the products that have been doing live chat for years. Such a position is precious for a word "free live chat" with a monthly volume of 36K and keyword difficulty of 77 because the CPC cost is $1.13.
What we do in this blog post and what makes users prefer us in search results is to share the results we have obtained by experiencing dozens of live chat products and providing them with a more straightforward product selection. Google is promoting this content because users want it. We want to consume the results of the research that the content writer has done for hours in less than 2 minutes and get what we want. We also try to produce excellent content by researching similar content, products, and product reviews.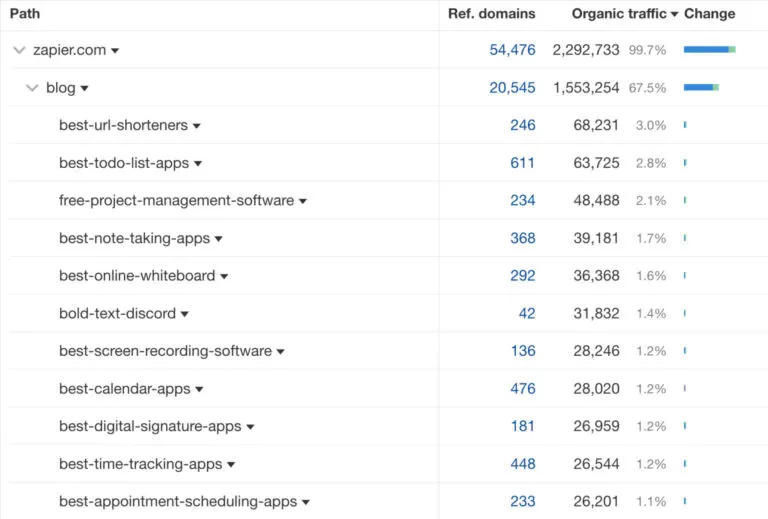 Thanks to this content, our free growth project FreeChat application is actively used on more than 1,000 websites. In this way, we get backlinks as credit from more than 1,000 websites. Moreover, FreeChat was developed by 1 software developer in just 3 weeks. Seems pretty helpful, right?
Product Competitor Alternative Pages
I thought it was invaluable to offer Popupsmart when people tend to look for alternatives to our competitors. That's why we've created these pages that cover all our competitors in detail:
popupsmart.com/sleeknote-alternative
[popupsmart.com/optimonk-alternative]
… 6 more competitors…
On such pages, our aim is to rank first with SEO, for example, when "sleeknote alternative" is written. First of all, we explained the differences between using a very good UX. Most people talk about it with a blog post, but this is not a useful content type for a lead that comes in such an important word. That's why we gave serious importance to that. After this process, most of our pages started to rank in the top 5 places.
To take this situation to the next level, we took the following step. Though we have compared it with Sleeknote as an alternative, at the bottom of the content, we have provided information with titles containing our other competitors, like dummy content. Again, by taking advantage of Google's directory page algorithm, our alternative pages experienced more promotion. Now when "sleeknote alternative" is written, we are ahead of sleeknote.com :)

Encyclopedia Page
Inspired by Shopify, I made the encyclopedia containing the basic metrics related to the audience we are addressing, thus supporting the blog content with link building within the site. Shopify Encyclopedia as you can find here, Shopify has created a business encyclopedia for its sector, clarifying the basic concepts and getting organic traffic from here while at the same time providing in-site links to these pages in the blog; it has provided significant support for link building.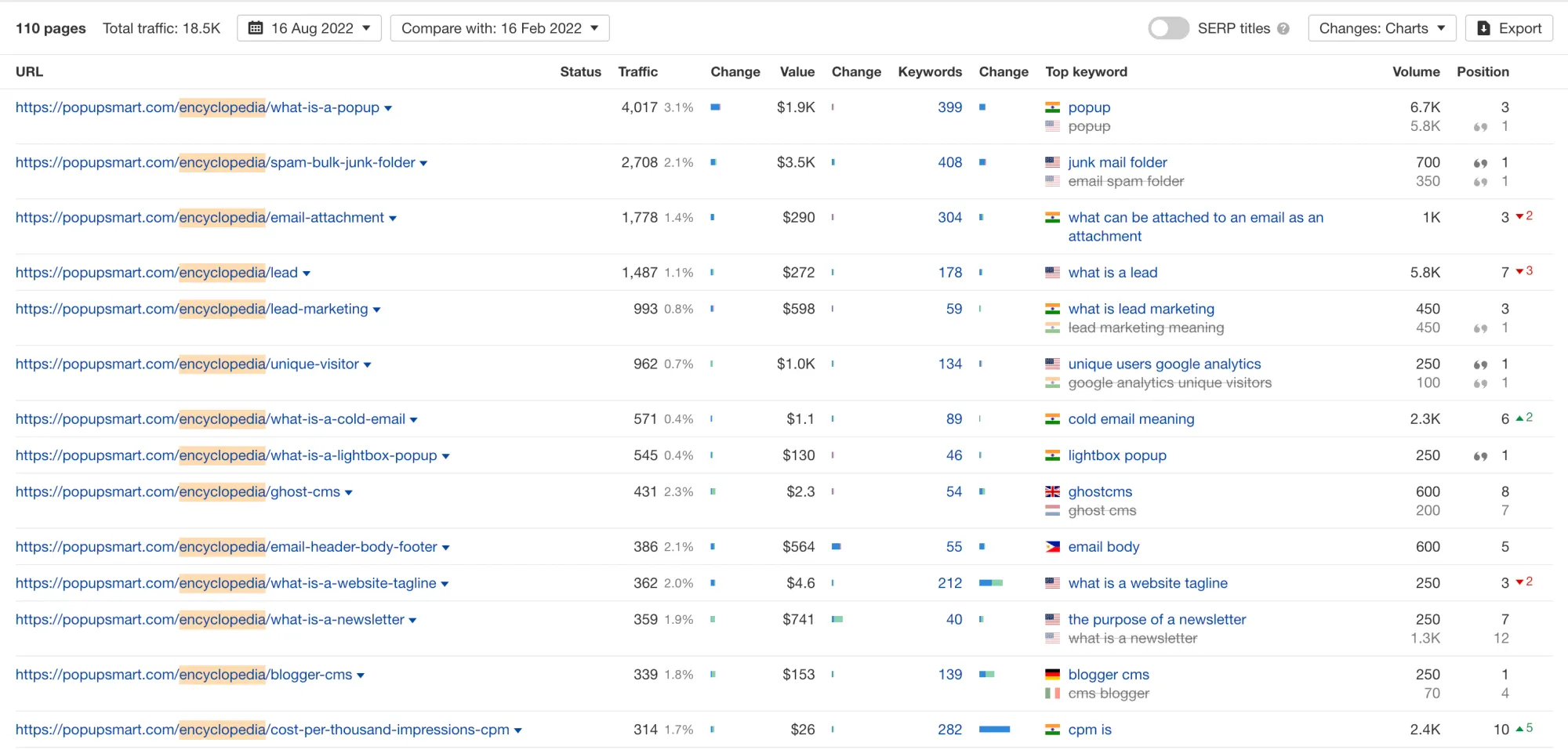 Don't Outreach for Backlink. Create Awesome Content People would Like to Mention You

It goes without saying how important and difficult a backlink is for SEO. Now, people are differentiated according to the backlink acquisition strategy because they can produce good content by pushing the limits on a certain subject, technical infrastructure can also be provided. There are many methods, such as outreach to obtain backlinks; I will be talking about the methods we apply.
First of all, we preferred to optimize the growth tools and content instead of outreaching people and asking for backlinks. We receive dozens of emails a day saying, "add us to this article," bla bla. It actually has a simple answer, why would I do it? You have to make me an offer. Most don't do that either. So if you want a backlink from someone, you must have a valid reason. If you can find this reason, you can experience outreach, but as it is written everywhere, emails like can you add me to this blog are not even read anymore. That's why if you want to get backlinks, you just need to produce great content.
Statistics Related Blog Posts
Blog content containing statistics is very advantageous in terms of obtaining links because people show you the source by basing the data on the blogs they write on the statistics. You can get special statistics by collecting statistics from various sources or by adding your comments from certain sites.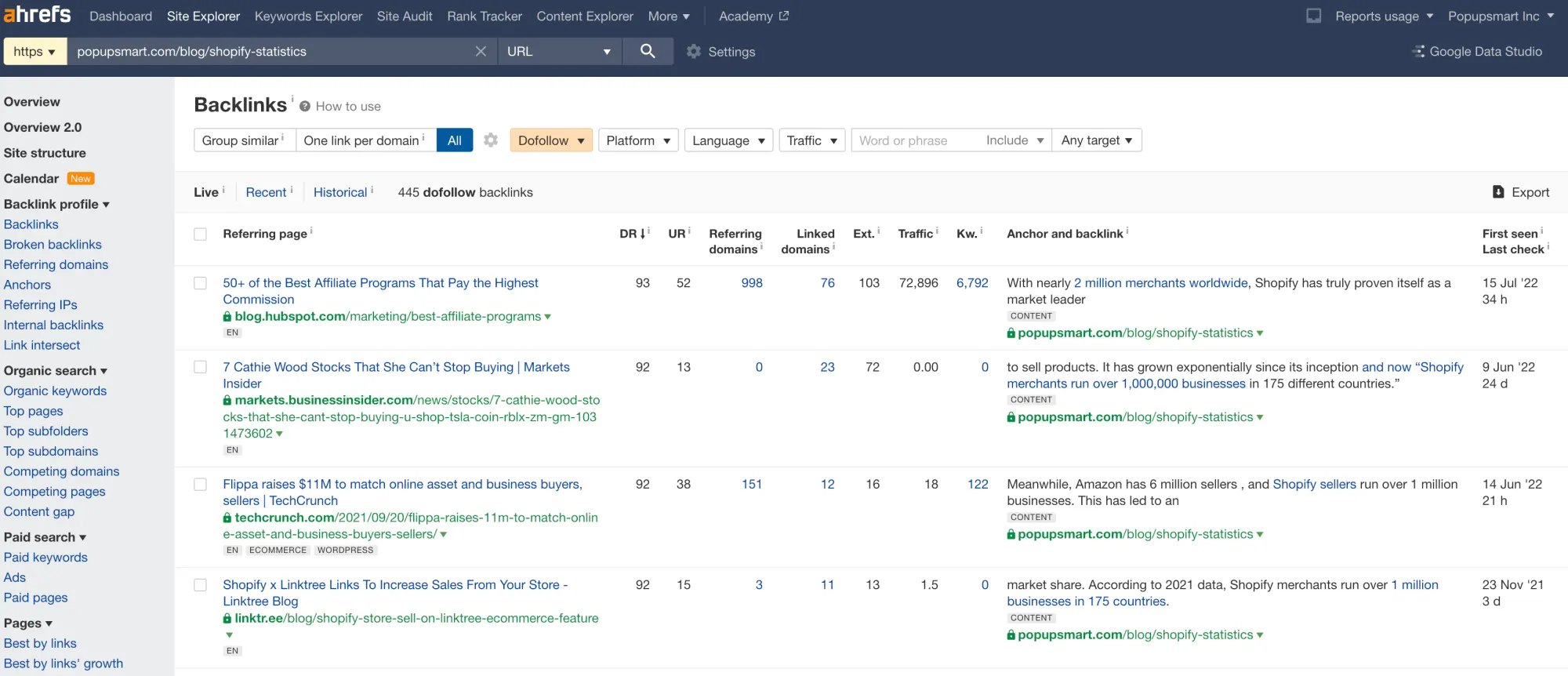 Our blog post on Shopify stats below has backlinks from huge sites like HubSpot, BusinessInsider, and TechCrunch. You can also make the content quality and get backlinks in this way.
Encyclopedia Contents
Again, as the statistics can be seen below, people tend to give links by citing technical definitions so that the content they write can be understood easily and a relationship can be established.
Distribute and Vary the Content Automatically
Yes, you have created the content perfectly and published it on your website. Afterward, Google bots will visit your site and start testing immediately, but it may take time for you to appear in the search results. In order to accelerate this process and rise to higher ranks, it will be useful to share the content that you have created with serious effort in different channels.
For example, if you have blog content related to design, you can share the designs in this content on Pinterest and mark your blog address as the source address. You can automatize the image creation process for pinterest with bannerbear.com
Example content distribution channels can be Twitter, Reddit, Facebook, Quora, Tumblr, Medium, and more. It will be very useful for you to share your content on different platforms according to the category and to meet your content with the readers.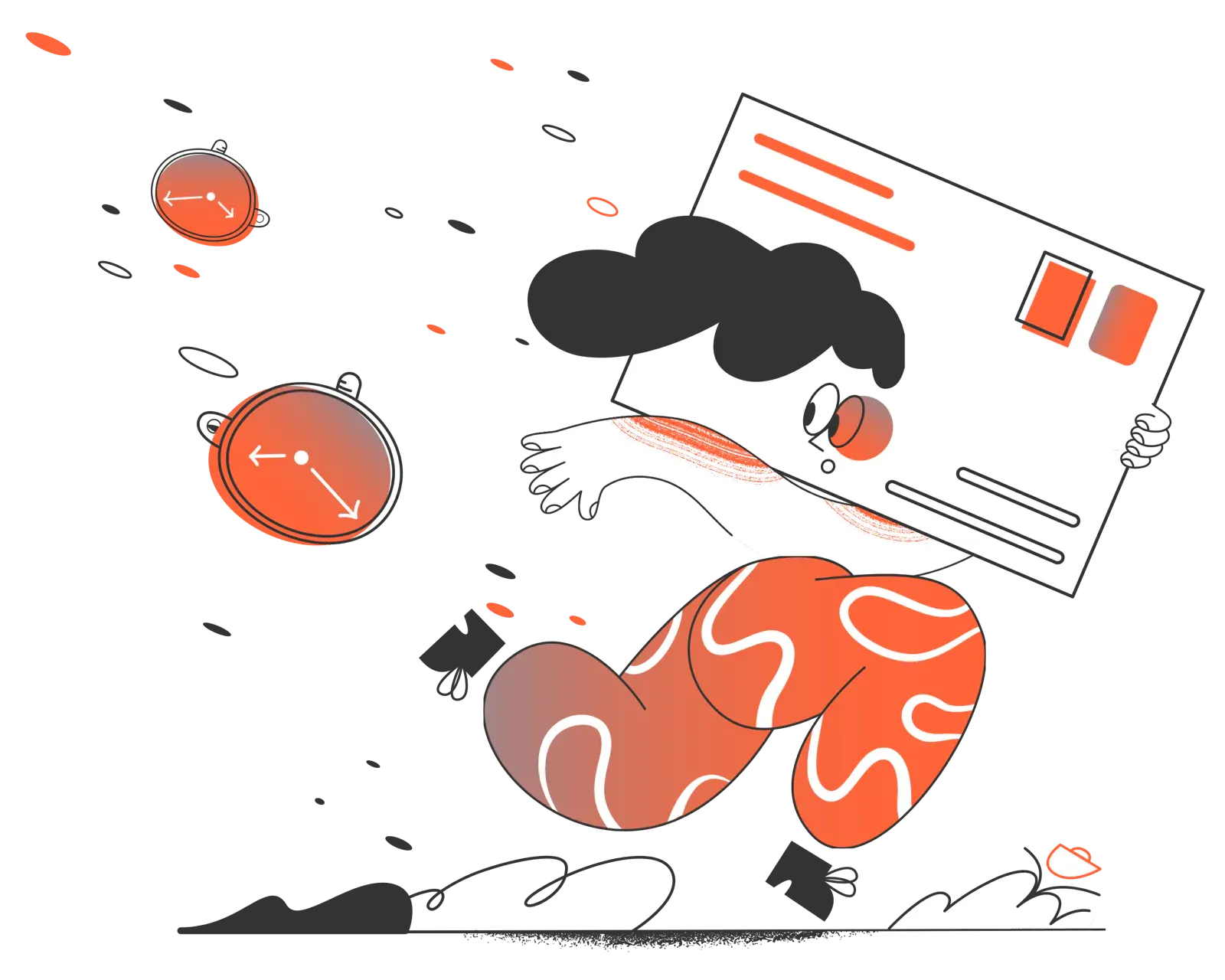 Especially [medium.com] is a platform with a very high-quality audience. It also allows you to mark the articles you will publish here with the original URL with the canonical tag. This is a feature that is not available on most platforms. Another superstition is that duplicate content is harmful to SEO. This superstition was proven wrong by John Muller's tweet. If you are publishing your content on a platform with a target audience, it will not do any harm.
You can do the whole content distribution process very easily with my favorite automation tool make.com This process starts automatically after the blog is published and does not require any manual effort. Here is an example of an automation for content distribution with make.com
Generating and distributing different types of content from blog content
Let's assume that your content, which is the value you produce, is in text format; the methods to convert it to different content formats are as follows:
Text to Speech: You can convert it from text format to audio format with artificial intelligence and publish it on SoundCloud or other podcast platforms. Related tool: Google Cloud Text to Speech
Text to Video: Again, ideally, one person explains the text format in video format. But since this is a difficult task, you can do it with ready-made programs. For example, you can use Magisto and Lumen5.
Text to Image: Making banner images for important parts of the content and distributing them on image channels such as Pinterest. Example tools bannerbear.com, renderform.io
Finally, by using the above technologies in reverse logic, you can obtain text content related to your content, and you can benefit your website in terms of backlinks by publishing them on different platforms.
Develop Free Tools That Can Provide Backlinks
The differentiation I mentioned in the SEO strategy makes itself felt significantly with these free tools. The simple free tools we used to get backlinks to develop Popupsmart sometimes outstripped the number of uses of Popupsmart popup builder. This was a situation that shocked us. If the value provided by simplicity is a visible solution, it continues to spread rapidly. In addition to the backlink, it also provides us with traffic because it is in a visible area on the widget. We have experienced this in many projects, which I will explain below.
Growth Tool #1: Free Cookie Content Creator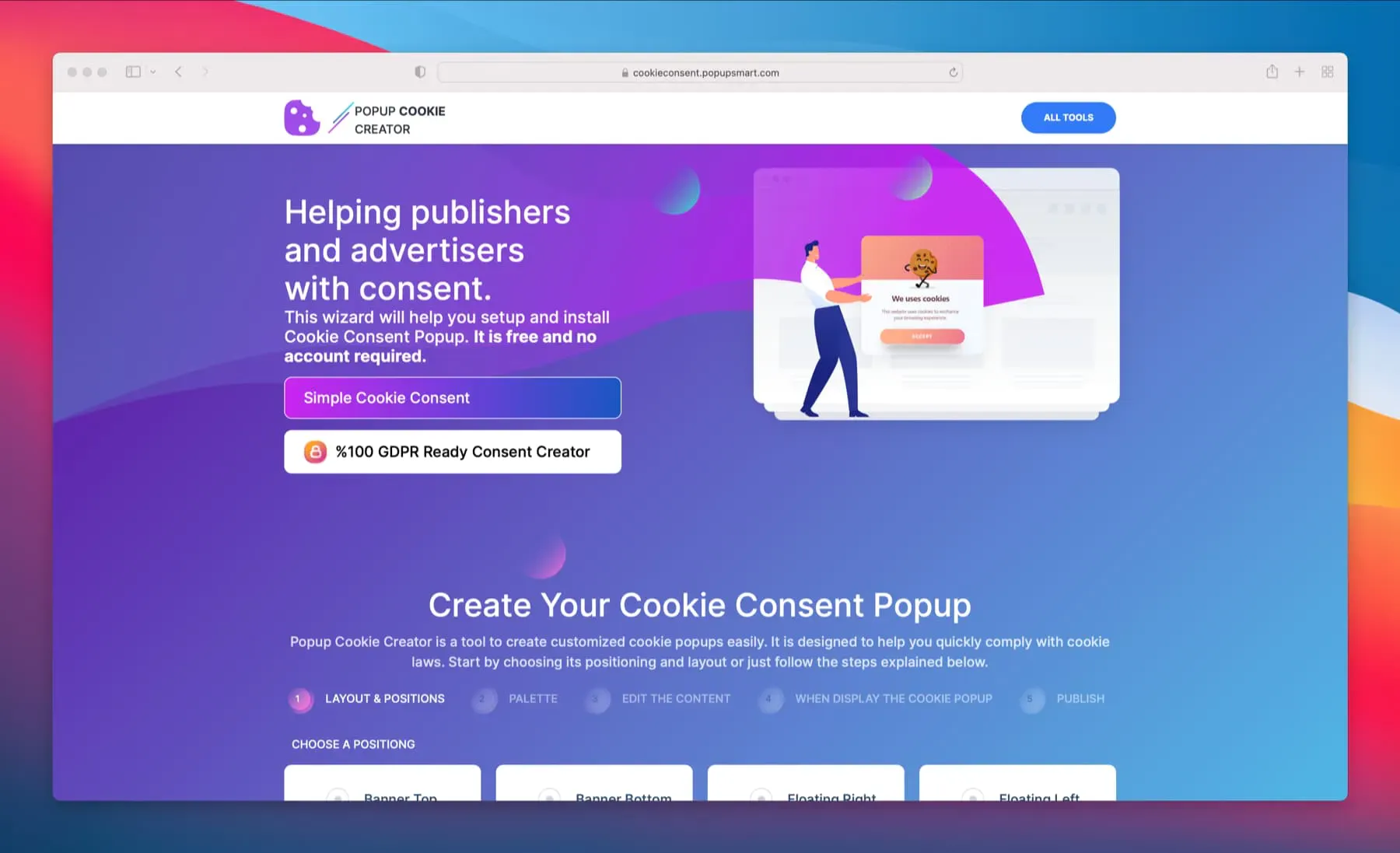 We are all used to seeing modals asking for cookie permission now. This is an action that every website has to do, but most website owners and developers are looking for a quick and ready solution instead of dealing with this job.
With the simple interface and UX we have developed, you can add the cookie consent to your website unlimitedly and free of charge. The benefit we provide here is the "powered by Popupsmart" link attached to the cookie consent.
More than 1,000 websites are actively using the tool, which we developed at the beginning of 2021, and a significant amount of backlink authority has been obtained from these 1,000 sites. It took only 3 weeks for us to design and develop this product.
Growth Tool #2: Free Live Chat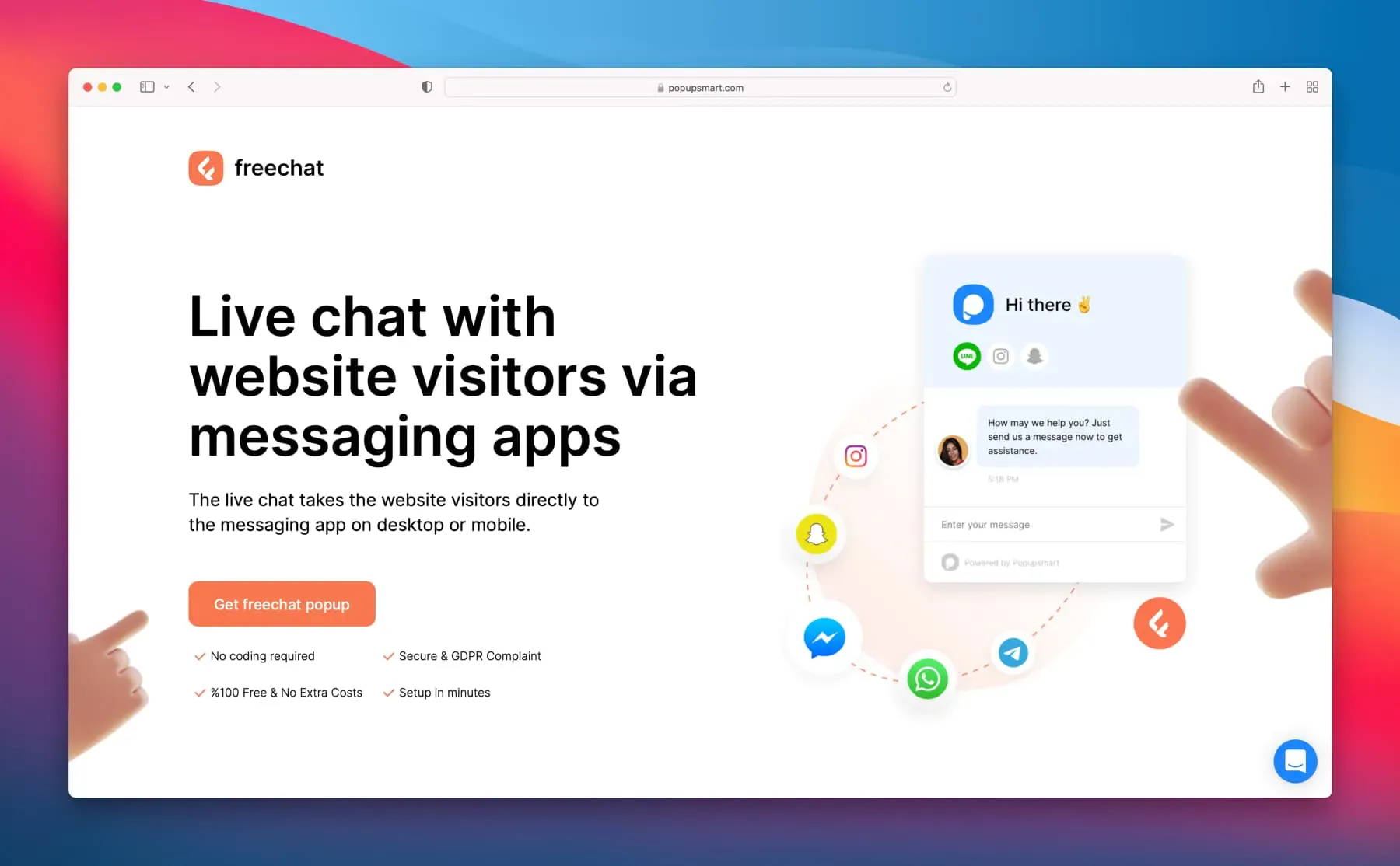 Live chat is an effective method for customer satisfaction, as you have seen on most websites. However, most live chat tools are unfortunately used for a fee. After analyzing this, I realized that live chat can actually be made very simple by integrating with current messenger applications. In other words, we will make a widget; when the user clicks on the chat, they will be directed to the WhatsApp of the site owner, and the chat will continue from there. We call it FreeChat.
We designed this product as modern, no membership required, unlimited use, and free of charge, and the reaction to this product has been good. About 1,200 websites are currently using our FreeChat product and are giving us backlinks as credit.
Growth Tool #3: GDPR Cookie Consent Creator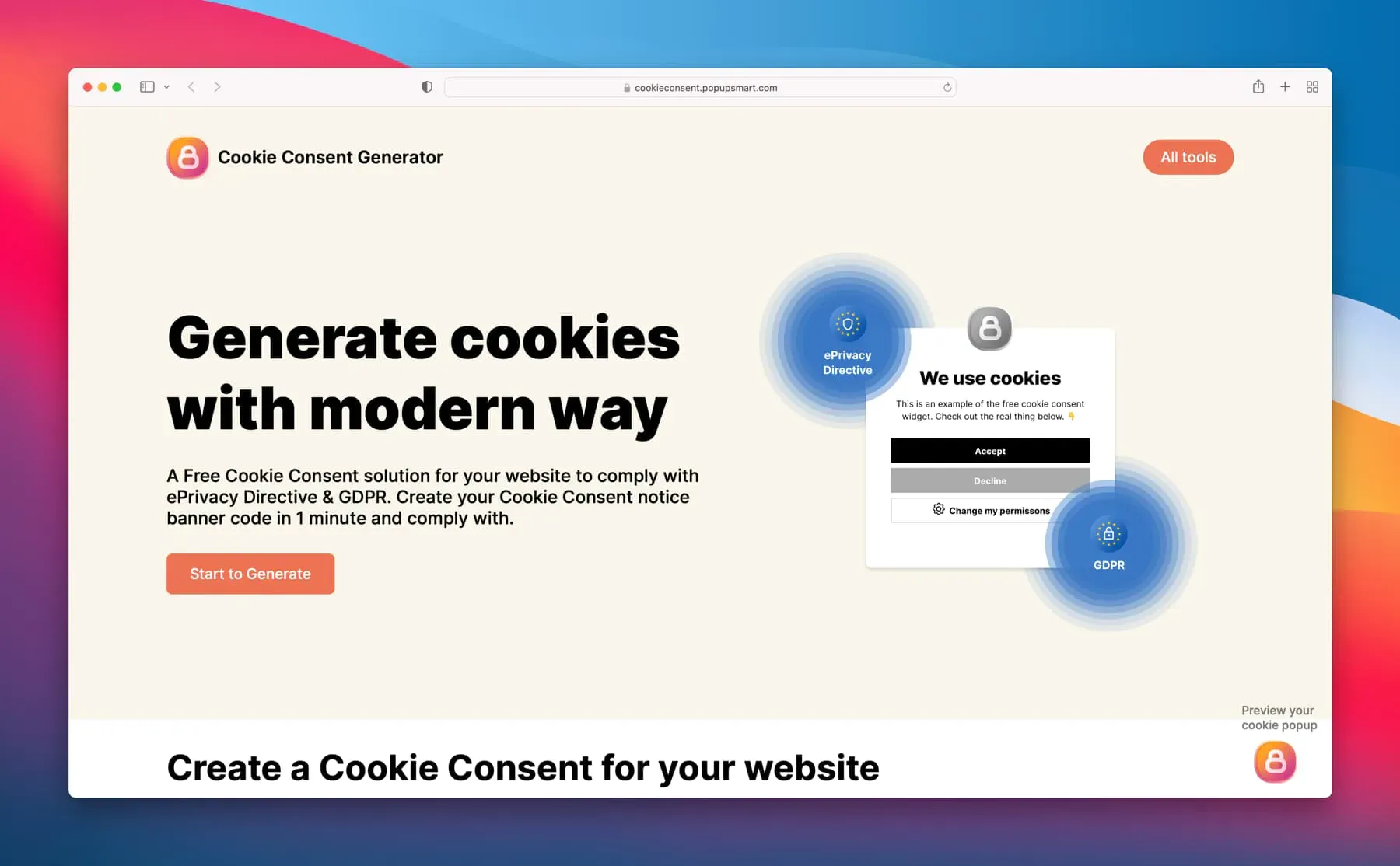 After making the cookie consent in 2021, I decided to make a GDPR-compliant cookie consent tool because it had a good reaction. Because in the other cookie tool, we were giving a warning just to inform, but we were not taking any action. With this tool, we became the rival of many big companies working on this subject with cool names such as the cookie management platform, and we provided it for free. We released the product in June 2022, and it has already started to be used; I hope this product will actively benefit us a lot.
Growth Tool #4: CRO Checker Tool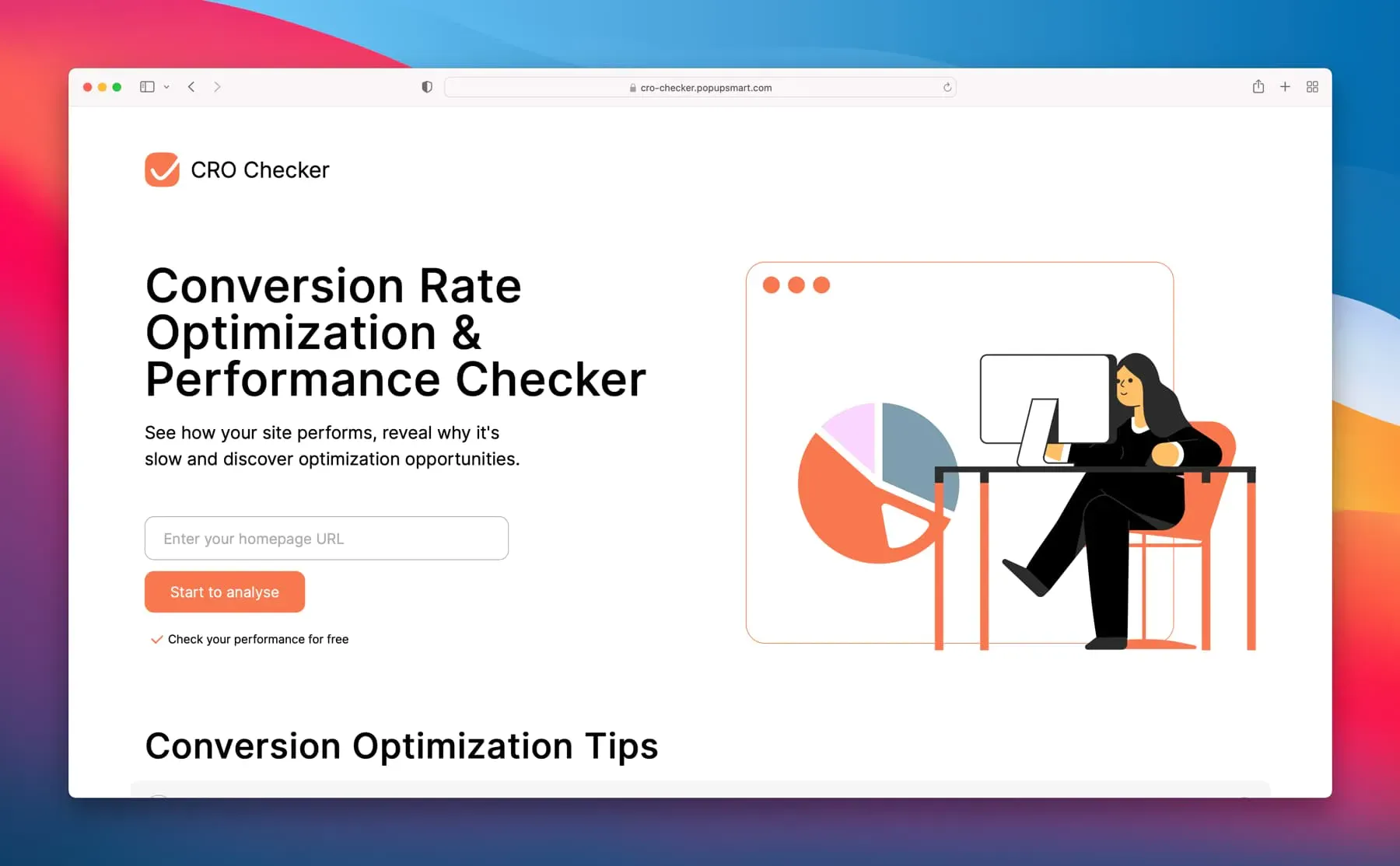 CRO or conversion rate optimization is the exact definition of the value Popupsmart provides. You add popups to your website and increase your conversions. Now there are many ways to improve your conversions on a site, and I have given this consultancy to hundreds of brands in my agency time. In this area, we have designed a tool that gathers important clues in one place and analyzes the website fundamentally, and generates a report accordingly. It is conversion rate optimization checker tool for saas companies.
Growth Tool: #5: Free QR Code Generator Tool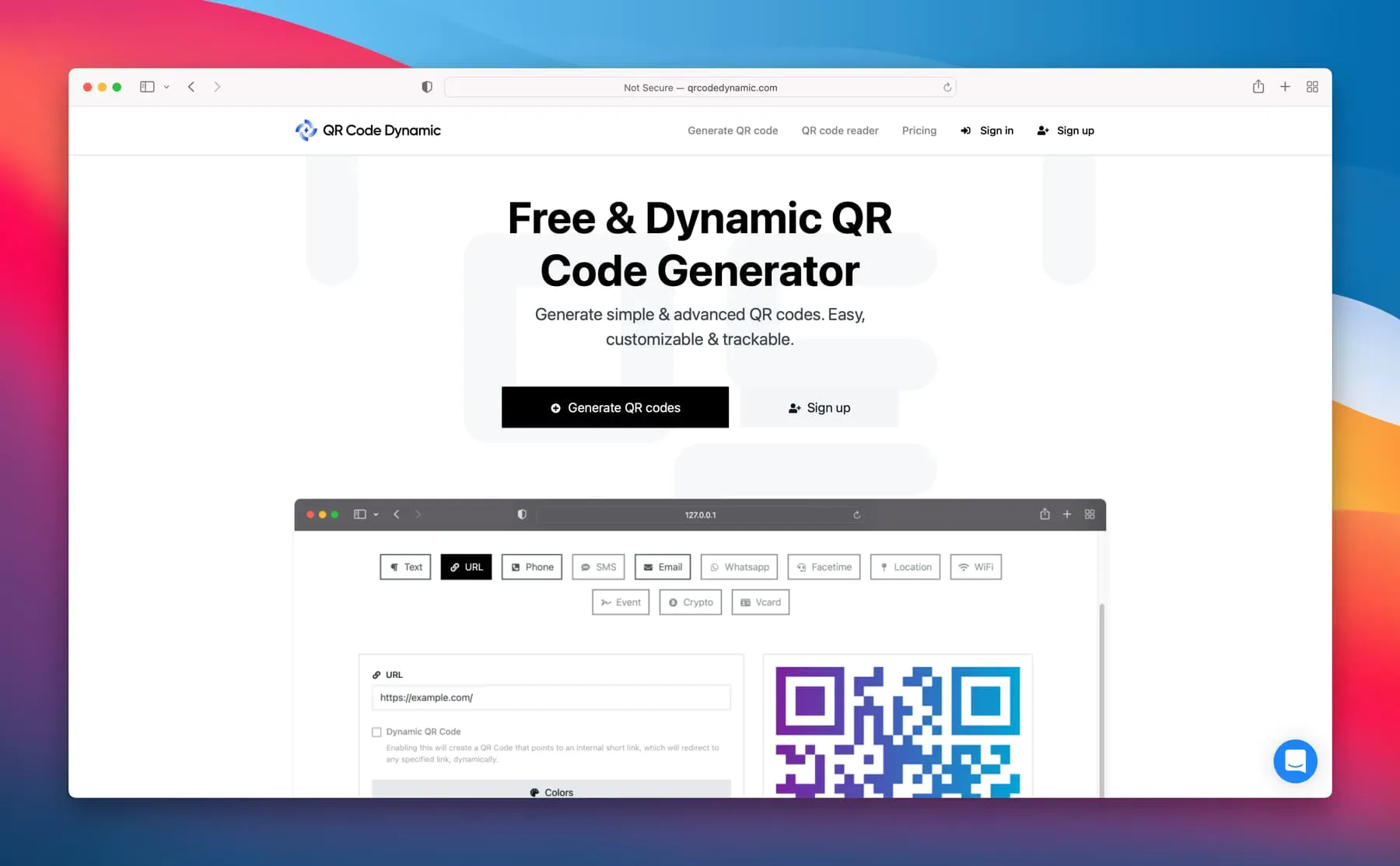 QRCodeDynamic is a simple QR generator tool. Moreover, we didn't develop it; we bought a ready-made script and published it with minor changes. After about 3 weeks, we have 8 paying users and received an email the US Army as you can see above about using the product! It's not a joke; it's real! Moreover, 2 of the 8 paying users bought a lifetime package and paid $590 each.

For those who do not know Dynamic QR Code, it is a solution where you can change the URL or action you direct after printing the QR code. Since I realized the demand in this field, we had the idea to create such a growth tool.
More than 250 members and 8 paying users came in 1 month, with the traffic coming from our blog post content here. Our goal was not to sell, we activated the subscription to show the product quality, but we got good traction.
Growth Tool #6: Website Uptime Monitoring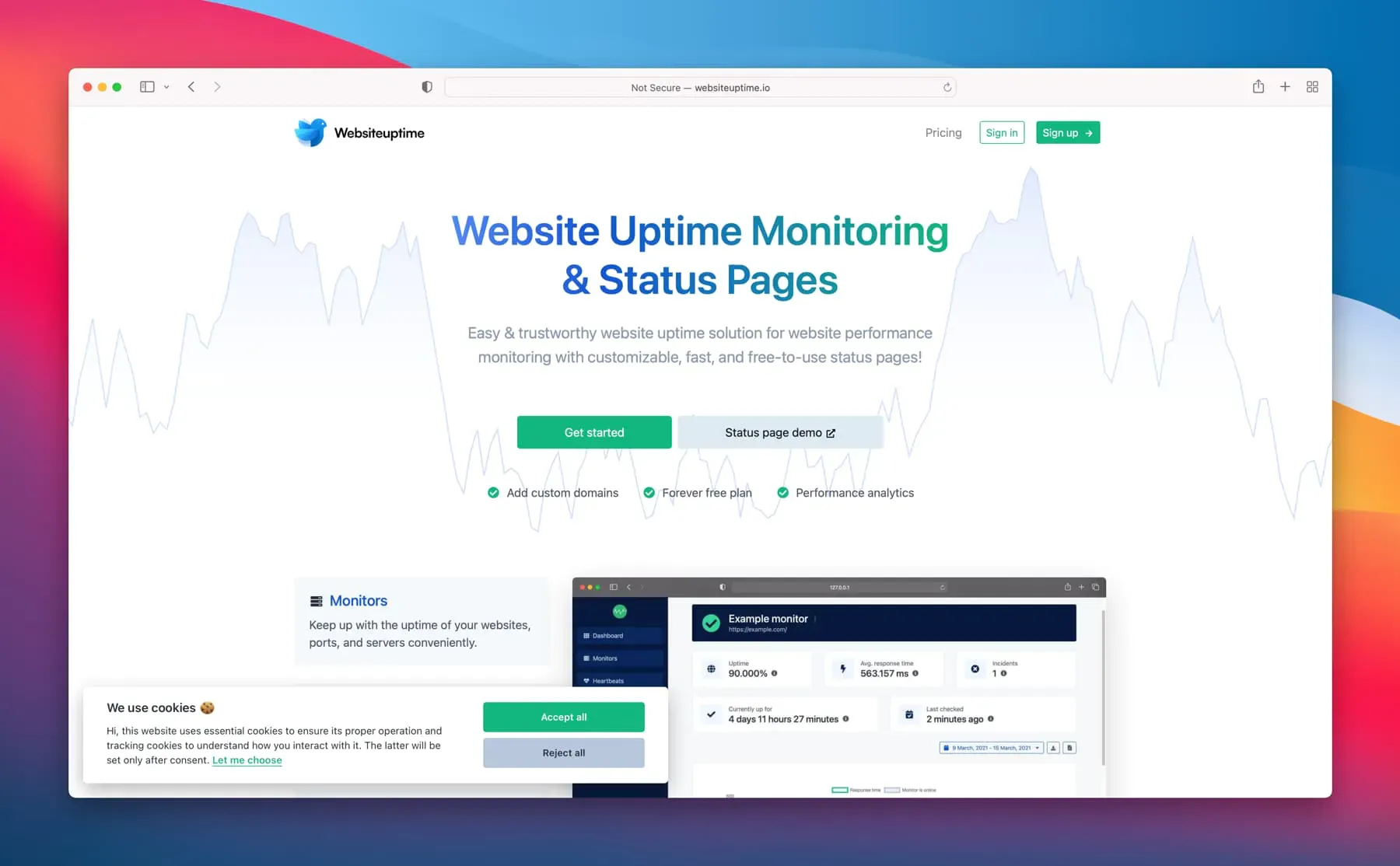 With the websiteuptime.io website we launched last month, you can monitor your website and create a status page accordingly.
Our aim with this micro tool is to get backlinks to Popupsmart with the status pages we will provide free of charge.
Search for DA +60 Domains to Enrich Your Content and Backlink Strategy
When your website comes to a specific authority, there may be many good companies that want backlinks from you by outreach. At our point, HubSpot is sending us an email for the link :) Some companies may be close to your authority, so it is reasonable to exchange links with them, but the link exchange made in a short time is a situation that can be noticed by Google. For such cases, you can build crosslinks by highlighting a C site belonging to us. So should I create this C site just for this reason? What use is this C site for me?
Of course, you should not open such sites just for the above reason. The PBN sites known by the experienced, which we refer to as C sites, are still working. To support our topical SEO authority from different websites, we buy websites with high authority from sites such from expireddomains.net and their recover content when we bought from [web.archive.org] and activate them again. Thus, we have some content sites that has at least +60 domain authority and is relevant authority topic to us. By including this site in our content operation, we enter AI-generated and programmatic content and use it for our various backlink strategies.
Remember, even though a new content site may look good, it is a complex operation to maintain its continuity. If you have limited resources to allocate to the content operation of your primary business, never get into these businesses. .
Conclusion
If you have come to the end of the article, you must have seen that it tells strategy in its plain form. You are the ones who will draw the roadmap inspired by these. I am sure this case study can inspire many B2B saas startups. We are still at the beginning of the road; our goal is to have 1M monthly organic traffic per month in Q2 of 2023.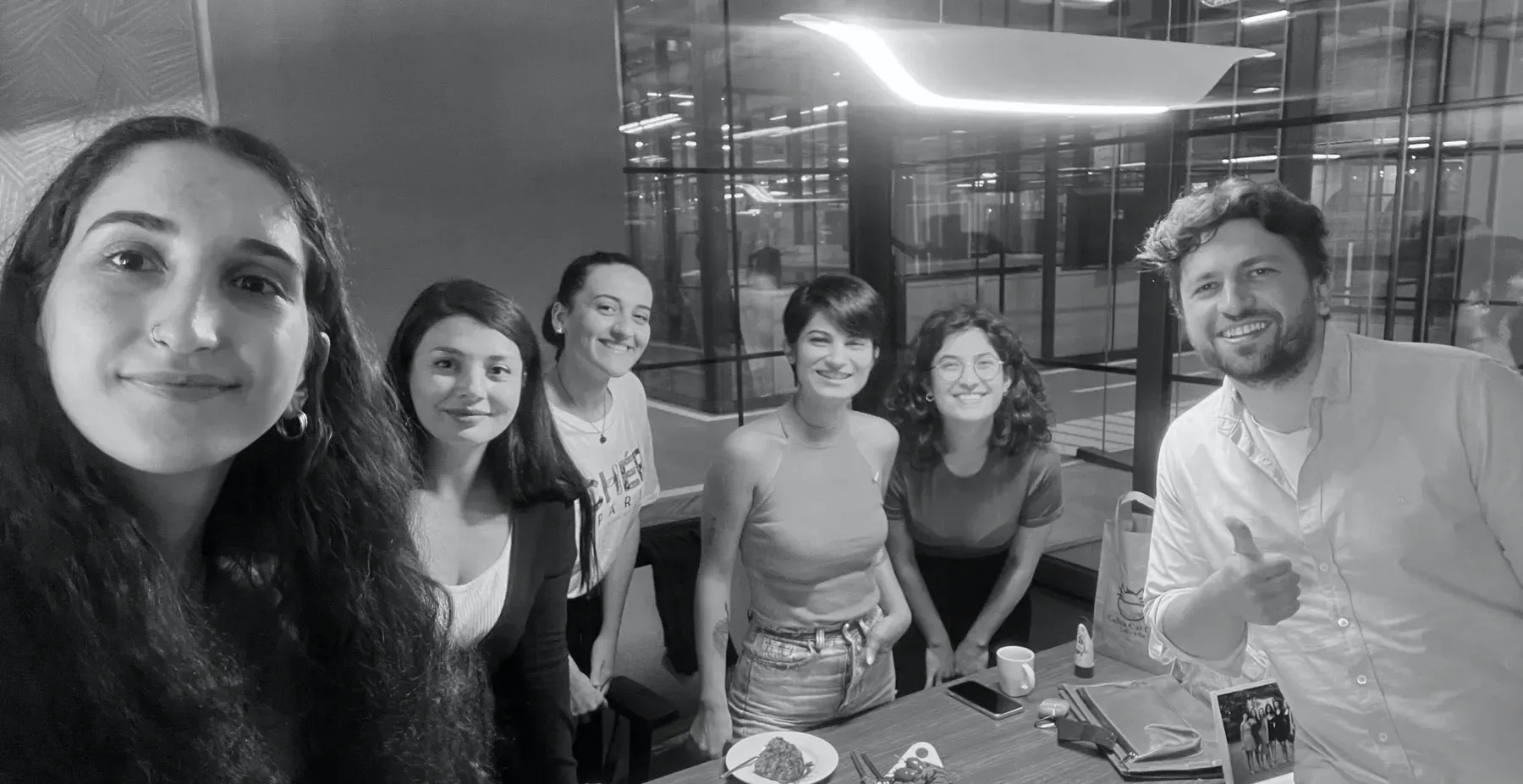 I would like to thank my team, who worked day and night to achieve our goals. I would also like to thank our SEO team leader Bengu, and content marketing specialists Berna, Faezeh, Perihan, and Nazlıcan, our video content producer and star. ⭐
Stay growing 🚀
Emre